MORNINGSIDE was built in the 1920s by Philadelphia Architects, Willing, Simes and Talbot. These Architects, as were so many of their contemporaries, were deeply influenced by the bold, picturesque forms of Norman French provincial buildings they discovered in France during military service in the First World War. Many made a concerted attempt to adapt such forms to American country house design. This house is a successful attempt.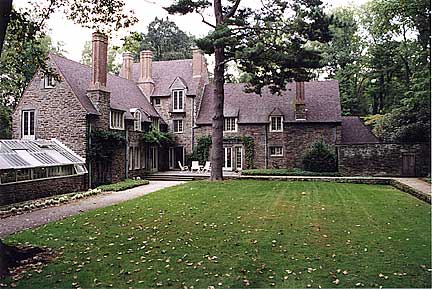 Garden Quadrangle. The Greenhouse seen on the left opens up into the Living Room.
Today such houses require substantial alterations to upgrade to present day, servantless, living standards.With this house, we made changes normal to any upgrade, but in keeping with the spirit of the original: new state of the art heating and cooling, new baths, kitchen and kitchenette, changes to room functions as elimination of servantsí rooms, obsolete kitchen sculleries, outmoded laundries. We simplified aspects of the landscape and constructed a swimming pool addition to blend in with its surroundings.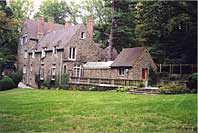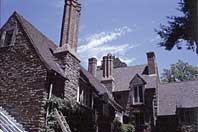 Elevation backing onto Cresheim Valley.
Chimneys.
< BACK

NEXT >