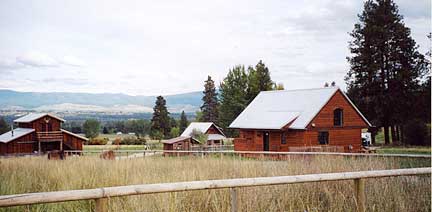 Entrance to the Ranch.
CABIN IN THE BITTER ROOT MOUNTAINS is designed as a small vacation cabin on a ranch near Lolo, MT, the historic take-off point for the perilous crossing of the Bitter Root Mountains by the Lewis and Clark expedition in Winter 1805.
The cabin is carefully sited for shelter against the Winter mountain storms, to capture southern Winter sunlight and for dramatic views of the surrounding Bitter Root and Sapphire mountains. The plan is simple. A vaulted ceiling shelters living, dining and kitchen activities while a high clerestory window showers light onto these spaces. An adjacent bedroom and bath have low ceilings to afford a loft space and dormer to fit in above. With the use of recycled lumber, extra deep wall and roof rafter cavities are filled with heavy insulation. State of the art reinforced concrete floor slabs contain warm water heating designed for further energy economy. A case of sustainable, green design.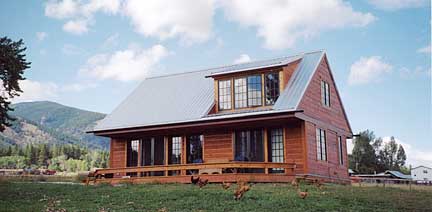 < BACK

NEXT >