HOUSE ABOVE THE BLUE ROUTE was built as a result of a right-of-way condemnation for construction of a new interstate six-lane highway cutting through a large property on Philadelphia's Main Line which has been held in the Owners' family since the time of a Wm. Penn land grant.
The interstate, locally called the Blue Route, demolished the Owners' handsome Federal era stone farm house, stone bank barn and outbuildings.
On another, higher part of their property we designed a new house for them as a complex of building blocks united by flat-roofed paths of circulation. The largest block we modeled after the massing of the wood sided barn with separate shed roofed blocks reminiscent of the former barn and outbuildings on their property.
We designed an automobile entry court away from the main house for privacy. From the automobile court the house is reached up a short flight of steps under cover to the entrance, passing a raised forecourt around which the building blocks are composed. The principal rooms face views and sunny exposure on the opposite side.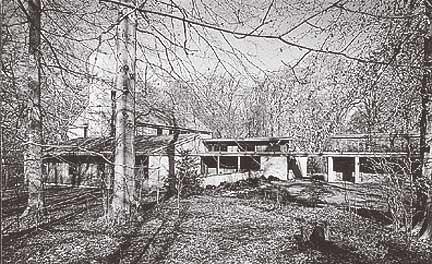 < BACK

NEXT >