MEADOW FARM is a 70 acre elegant, patrician-like farm dominated by a 20,000 square foot manor house and a 14 stall horse stable containing resident manager's quarters. The complex is surrounded by meadows and woodlands. When the first Owners came to sell, they were confronted with a real estate market at its lowest ebb in years. To avoid selling this distinguished property to a tract developer for building "Executive Homes" on two-acre lots on one of the last vestiges of extraordinarily beautiful open Penllyn countryside, the Owners sought guidance from a Lands Trust which would later work with the Preservation Architects.

The Lands Trust assisted the Owners and the Architects with solutions for preservation of the buildings and surrounding openspace. With the use of land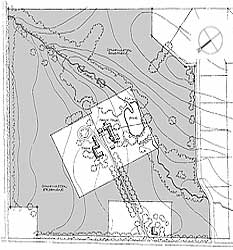 planning and land management analysis techniques, the Trust succeeded in re-zoning the entire property. Through placement of facade easements on the building exteriors and donating 50 acres to the Trust to be placed under permanent open space preservation easements, the Owners received economic and estate tax benefits. In this fashion the essential character of Meadow Farm was maintained.