MINI ESTATE IN BRYN MAWR is a complex of buildings designed to house servants and gardeners as part of a large property designed by R. Brognard Okie in the 1920s.

We redesigned all interior spaces to conform to the new Owners' program: Living Room to Library, Kitchen to Dining Room, Master Bedroom absorbed adjacent small rooms. We added a new glass roofed Kitchen, built new terraces, added a new entrance portico and constructed new out buildings.

These changes brought glamour and gave presence to outmoded, run down buildings which otherwise had "excellent bones." We should say this cautiously but the alterations, we are told, have doubled the value of the property.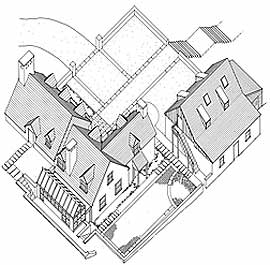 Overview of building complex.