Ropsley was designed in 1916 as a small country estate for Mr. and Mrs. Francis S. McIlhenny by Philadelphia Architects, Mellor, Meigs and Howe. Ropsley is a bucolic, sheltered, village-like retreat walled in from the street and perched at the edge of a deep ravine supporting a mature upland forest. It was also supported by a large staff of servants and gardeners with a service wing to house them. The house is graced with gardens, parterres of lawn and a number of large scale, rather quixotic statuary designed as fountains to spout water into their own separate basins set in odd corners of the gardens. These elements gave a quiet intimate scale to the house and its gardens.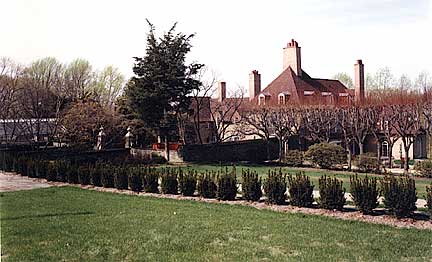 View of Ropsley from the street.
After the original Owners, the property fell into sharp eclipse with makeshift additions and poorly conceived alterations added by a succession of subsequent Owners.